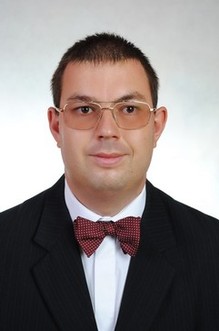 I was born in 1983. I finished my elementary school studies in Törökszentmiklós in 1998. I sat for the final secondary-school examination in the Grammar School of Reformed College of Debrecen in 2002. I graduated summa cum laude (with the greatest honour) from the Faculty of Law at University of Szeged in 2007.

During my university studies I qualified as a sociological and business English translator. With regard to this qualification I was registered as a legal English translator.

In the academic year 2004/2005 I won the second prize in the competition of the Pan-European Organisation of Personal Injury Lawyers whose title was A European Future Towards Fair and Just Compensation of Victims. Therefore, I took a one-month work experience in the Plymouth office of Bondpearce Solicitors.

In the first term of the academic year 2006/2007 I studied at the Faculty of Law at University of Potsdam as an ERASMUS scholar.

From 9 July 2007 to 31 March 2011 I worked as a trainee attorney in the law office of my father, Dr. Csaba Pataky. On 9 March 2011 I passed the bar examination, on the basis thereof I have been practising as an attorney since 1 April 2011 as a member of the Bar Association of County Jász-Nagykun-Szolnok [Jász-Nagykun-Szolnok Megyei Ügyvédi Kamara].

I am the member of the Hungarian Scientific Association for Transport [Közlekedéstudományi Egyesület], the Association of Traffic Judges [Közlekedési Bírák Egyesülete] (its new name: Association of Traffic Law [Közlekedési Jogi Egyesület]), the Insurance Law Section of the Hungarian Lawyer's Association [Magyar Jogász Egylet Biztosítási Jogi Szakosztálya], the Hungarian Association of Penal Law [Magyar Büntetőjogi Társaság] as well as the Pan-European Organisation of Personal Injury Lawyers (PEOPIL) headquartered in England and the Institute for European Traffic Law headquartered in Luxembourg. In October 2010 I was elected to one of the members of the Full Executive Board of the Institute for European Traffic Law and then I was re-elected in 2014. In September 2012 I was also elected to one of the members of the Full Executive Board of PEOPIL.

In September 2013 I founded the Young Lawyers Group with a Swedish colleague within the framework of PEOPIL which Group was co-chaired by me and the Swedish colleague. Now I am a co-chair with an English colleague.

In the spring of 2014 I was elected for the period from 2014 to 2018 to the chairman of the Parliamentary Single-member Constituency Election Commission No. 4 in County Jász-Nagy-Szolnok. In 2018 I was re-elected to this position for the period from 2018 to 2022.

In 2014 I have been awarded the professional qualification of "Lawyer specialized in insurance law" with outstanding result within the framework of the Institute of Post-graduate Legal Studies of Eötvös Loránd University. This post-graduate degree is also qualified as an LL.M. degree.

In 2015 I took part in the organisation of the conference entitled 16th European Traffic Law Days which was held on 8 and 9 October 2015 in Budapest within the framework of Institute for European Traffic Law.

In 2017 I did a PhD (summa cum laude) at the Faculty of Law at Pázmány Péter Catholic University. My field of research is the compulsory motor vehicle liability insurance, with special regard to the European motor insurance directives.

I regularly participate in conferences in Hungary and abroad and I have delivered several lectures in foreign languages as well.

My special fields of activity are civil law, with special regard to tort law, insurance law, company law, real estate law, private international law and traffic (criminal) law.

Besides Hungarian, I am fluent in English and German.